Wholemeal penne in tomato and mushroom sauce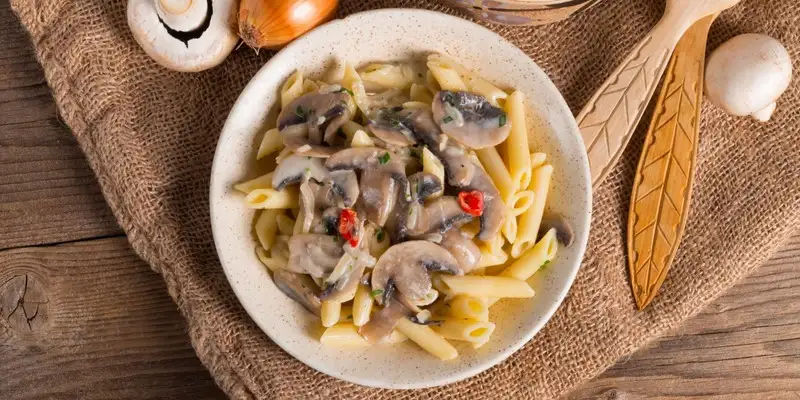 Nutritional values:
Ingredients:
Our recommendation

FoodPal - Diet plan
Category: Health & Fitness
Preparation:
Step 1:
In a saucepan bring salted water to a boil. Add whole grain penne to boiling water and cook according to package directions until al dente. Then drain and collect some of the pasta water.
Step 2:
While the pasta is cooking, clean the mushrooms and halve or quarter them, depending on their size. Wash the tomatoes and cut them in half as well. Parsley wash, shake dry and finely chop. Peel the shallots and cut into small cubes.
Step 3:
Heat a little oil in a frying pan. Add the mushrooms and shallots and sauté for 3-4 minutes and season with salt and pepper.
Step 4:
Mix 1-2 tablespoons of pasta water with the sour cream, parsley, salt and pepper well. Mix the penne with the tomatoes and mushrooms. Pour the pasta mixture onto a plate and pour the sour cream sauce over it.
Macronutrient distribution:
The recipe Wholemeal penne in tomato and mushroom sauce is composed of the following macronutrients.
Lack of consent from performance cookies
To enable the charts, please click the "Allow performance cookies" button. Please note that this will transmit data to third-party providers. For details please refer to our
Privacy policy
.
Allow performance cookies
Kitchen utensils needed:
Coated pan
Cutting board
Kitchen knife
Peeler
Pot
Tablespoon